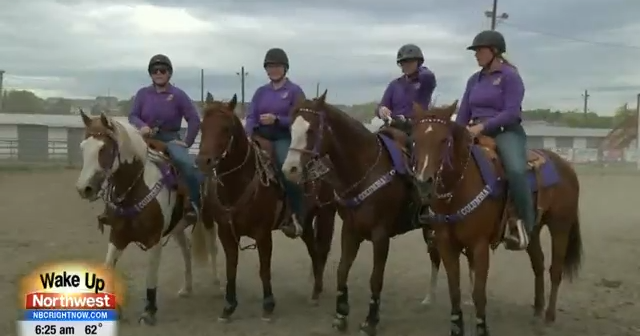 BURBANK, Wash. – Seven local high school students in the Columbia High equestrian team have qualified for the Pacific Northwest Invitational Championships! The team attended the big state competition two weeks earlier.
Now they'll be competing against the top four teams Friday through Sunday weekend in Moses Lake.
Taylor Sorbel says she's excited to be getting this opportunity. "Well I was fine going to state, but I was surprised we're going to regionals."
All team members say they have a passion for riding and competing.
The team been practicing since October up until this month. Their Coach Brent Cook mentioned he began the equestrian team in 2007 and has since seen the team grow bigger every year.
"
I volunteered to coach with them during that time and I've been coaching since then. I've had a lot of help over the years…many many volunteers that make the program work," explained Cook.
The team is a non-profit corporation and all funds come from parents. It is mainly ran by volunteers. Cook says their main goal is to encourage team-play, peer acceptance and horsemanship. It also teaches young riders how to become more confident in themselves.
All seven athletes will be out there today and this weekend, competing for the gold medal.
Article Source: NBC Right Now