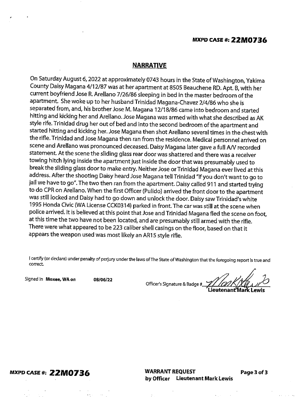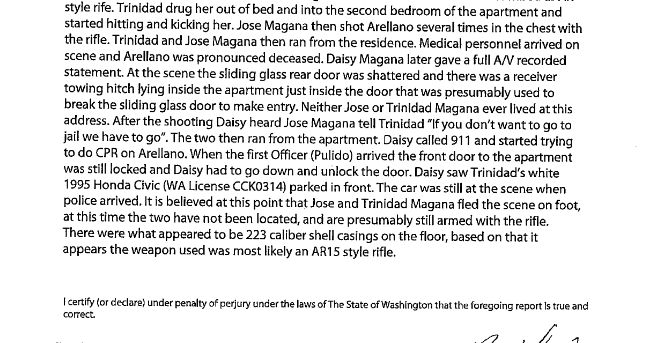 MOXEE, Wash.-
On August 6th, Daisy Magaña (35-years-old) was at her apartment on Beauchene Rd in Moxee with her boyfriend, Jose R. Arellano (36-years-old) sleeping.
She woke up to her husband, Trinidad Magana-Chavez (36-yers-old), who she is separated from and his brother, Jose M. Magana (36-years-old) kicking and hitting her and her boyfriend, Arellano.
Daisy describe Trinidad to have been armed with was looked like an AK style rifle. She then remembers Trinidad dragged her out of bed and began to beat her too, kicking her.
Jose Magana then shot her boyfriend, Jose R. Arellano in the chest several times. Trinidad and his brother then left the apartment.
When medical help arrived, Arellano was pronounced dead at the scene.
Daisy later gave her statement saying she remembers Trinidad tell Jose Magana, "If you don't want to go to jail we have to go."
Officers described the scene to look as if a towing receiver was used to break the glass sliding door into the apartment. Neither of the suspects lived at the apartment.
Daisy called 9-1-1 and began attempting to do CPR on Arellano. However, because the front door was still locked, Daisy had to go downstairs to open the front door for officers.
When Officer Pulido arrived, Daisy remembers seeing Trinidad's white 1995 Honda Civic parked out front, leading them to believe the two suspects fled on foot.
At this time, the two have not been found and may still be armed.According to documents, 223 caliber casing were found in the apartment. It appears and AR15 style rifle could've been used.
If you see them or have any information, call police immediately. Do not approach them. You can call MPD at 509-575-8850 during business hours, or the 24-hour Yakima County Sheriff's Office dispatch line at 509-574-2500. Anonymous tips can be made through Yakima County Crime Stoppers at 1-800-222-8477 or on the P3TIPS app.
Article Source: NBC Right Now