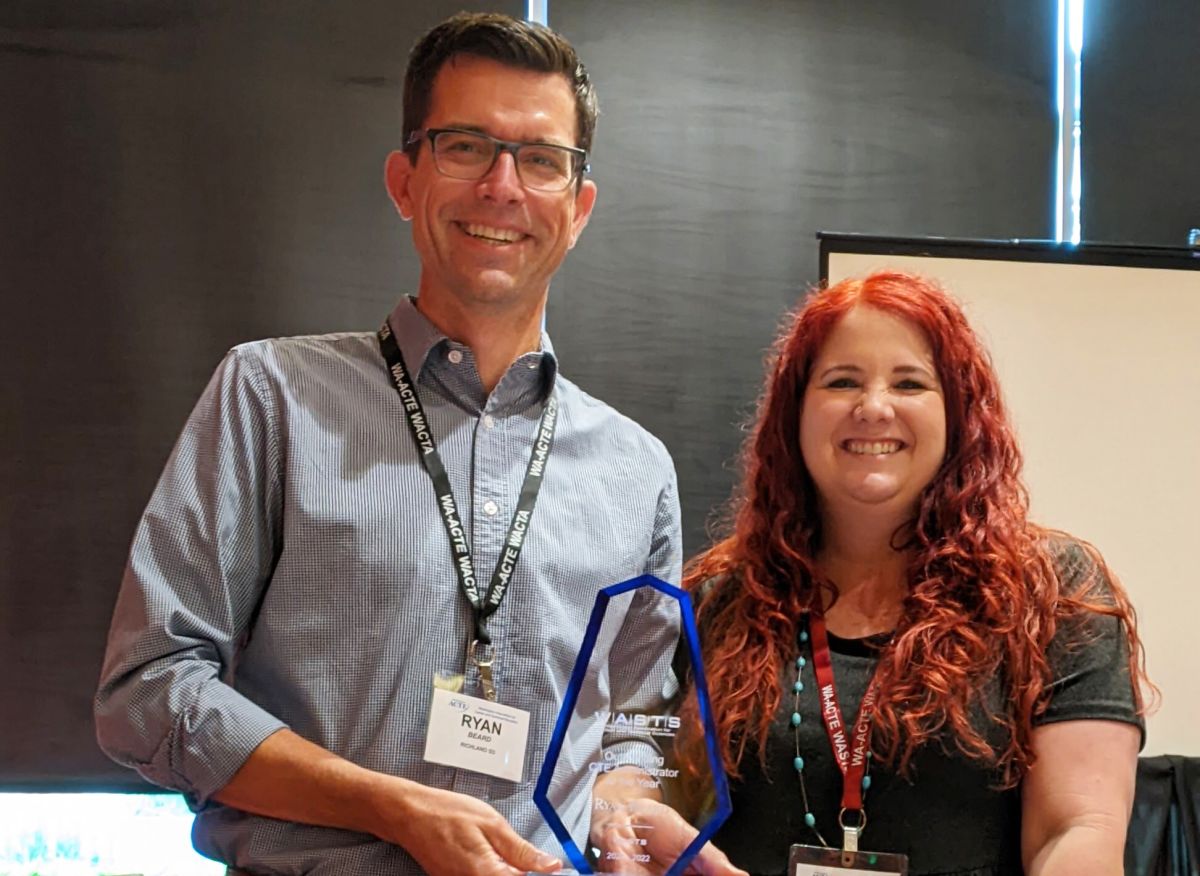 Join RSD in celebrating Hanford High School's broadcast teacher and the district's director of career and technical education (CTE) who were named New Teacher of the Year and Outstanding CTE Administrator of the Year, respectively, by two state organizations.
The awards were presented to Cheyenne LaViolette and Ryan Beard during the recent annual conference of the Washington Association of Career & Technical Education (WA-ACTE). Mrs. LaViolette's award as New Teacher of the Year for WA-ACTE qualifies her for consideration for a regional award. Mr. Beard's administrator recognition was awarded by the Washington Association of Skilled & Technical Sciences (WASTS), which focuses on supporting education in trades such as construction, engineering, and cosmetology.
"We have truly leaned into building and enhancing our career and technical education programs so students can fully explore their interests and determine their future," says Todd Baddley, Assistant Superintendent for Secondary Education. "These recognitions help us know that we're on the right path.
Mrs. LaViolette earned the WASTS award for new teacher of the year in 2021, qualifying her for the full state award this year. Previously a paraeducator and support staff member, she started teaching at Hanford in 2019 after earning her teaching degree, taking on the computer science and broadcast programs at the school.
Since then, she's also established a documentary filmmaking course and advises student clubs focused on podcasting and cybersecurity. Her students have competed at the national level in film festivals while also providing daily video announcements via the Falcon Report YouTube channel and livestreaming graduation ceremonies and athletic events.
Mr. Beard also joined the district in 2019. Since then, he's worked to have more students join the district's CTE programs, establish more courses for students, support staff in achieving certification and enhancement of their instructional skills and build community partnerships.
And those efforts have paid off: RSD has added nearly 20 new CTE courses in the past three years and CTE enrollment has climbed by nearly 40 percentage points in that same time frame.
"We appreciate that our colleagues around the state see the work we're doing for students and want to celebrate that," said Mr. Beard. "We have so much more we plan to do and we're excited for how our students take advantage of these opportunities to prepare for their futures."
Article Source: Richland School District