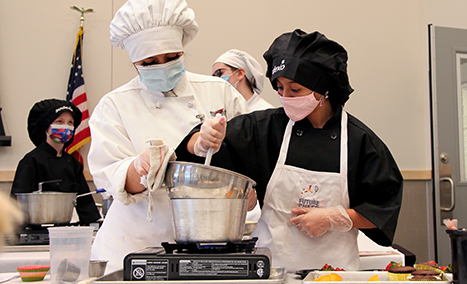 Elementary Students Showcase Their Culinary Skills at Sodexo's Future Chefs Challenge
Eating healthy can be a challenge for some kids, but 11 RSD elementary students used their culinary skills to create delicious, healthy meals anyone would want to eat at Sodexo's Future Chef's Challenge! The theme of the 2022 competition was to create a healthy recipe inspired by a book or movie.
White Bluffs Elementary fifth grader Alyzah Gonzalez took home first place for her Cauldron Cupcakes recipe inspired by Harry Potter. Alyzah is eligible to be chosen as a regional finalist and if selected, would be vying for a spot to compete at the national Sodexo competition.
The 11 finalists, worked alongside Tri-Tech Culinary students who mentored them as they cooked their meals. Students had to create a presentation plate, two plates judges plates, as well as dozens of tasting portions of their creations for the public.
Local restauranteurs Keith Moon (owner of Tumbleweeds Restaurant) and Melissa Nissen (owner of tsp Bakeshop) judged the creations on originality, taste, kid friendliness and use of healthy ingredients.
All participating students went home with a chef's coat and hat, cooking utensils, a backpack, gloves and more to help grow their culinary passion.
The 11 RSD finalists included:
Peytan Bates (Tapteal Elementary) – Keto Friendly Krabby Patties and Refreshing Fries
Armelle Bonneville (Lewis & Clark Elementary) – Julieta's Healing Arepas
Ava Bulow (Sacajawea Elementary) – Ma's Pancake Men
Eli Creviston (Badger Mountain Elementary) – Chicken Pineapple Boats
Alyzah Gonzalez (White Bluffs Elementary) – Cauldron Cupcakes
Journey McKinney (Marcus Whitman Elementary) – Confit Byaldi
Layla McMillan (Wiley Elementary) – Stone Soup
Quinn Rothwell (Orchard Elementary) – Matilda's Cake
Katherine Rubinaccio (Three Rivers Homelink) – Bacon Cupcakes with Maple Icing
Dayna Stevens (Jason Lee Elementary) – Maple Glazed Stuff Squash
Jade Wright (Jefferson Elementary) – Heavenly Pancakes
A special thank you to Sodexo, RSD's Nutrition Services team and Tri-Tech Skills Center for helping make this event happen.
Article Source: Richland School District