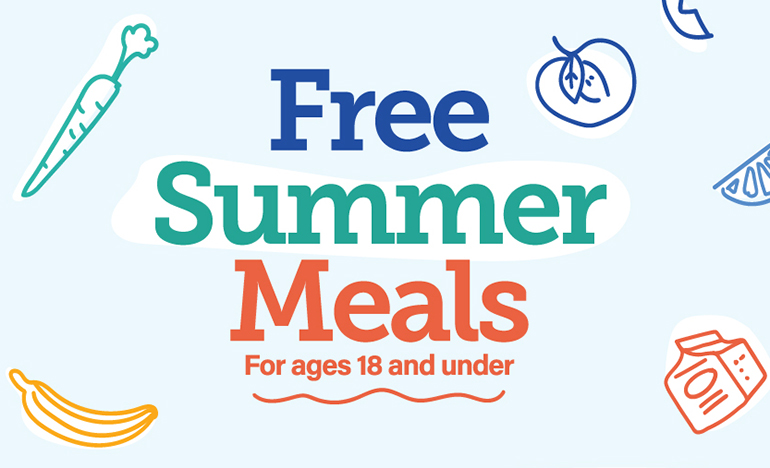 The Richland School District will be offering free summer meals for any child 18 years of age and younger. The Summer Food Service Program ensures students get the nutrition they need to learn, play, and grow throughout the summer.
Kids sit and eat the meals on-site during the times below. This is open to all kids, regardless of enrollment in the Richland School District.
Below is a list of sites and dates meal service will be available. You can also download the list here. If you have questions about the Summer Food Service Program, please call 509-967-6114.
Site Name
Dates
Meal Times

Jason Lee Elementary
1750 McMurray St.
Richland, WA 99354

Tuesday – Thursday
June 21 – July 21
CLOSED: July 4-7
Breakfast: 8:45-9:15
Lunch: 11:30-Noon

Jefferson Elementary
1550 George Washington Way
Richland, WA 99354

Monday – Thursday
June 21 – Aug. 11
CLOSED: July 4-5
Breakfast: 8:45-9:15
Lunch: 11:00-11:45

Lewis and Clark Elementary
415 Jadwin St.
Richland, WA 99352

Monday – Thursday
June 21 – July 28
CLOSED: July 4-5
Breakfast: 7:45-8:15
Lunch: 12:30-1:00

Marcus Whitman Elementary
1704 Gray St.
Richland, WA 99352

Monday – Thursday
June 21 – July 28
CLOSED: July 4-5
Breakfast: 8:45-9:15
Lunch: 11:30-Noon

Sacajawea Elementary
535 Fuller St.
Richland, WA 99352

Monday – Thursday
June 21 – July 28
CLOSED: July 4-5
Breakfast: 8:45-9:15
Lunch: 11:30-Noon

Tapteal Elementary
705 N. 62nd Ave.
West Richland, WA 99353

Monday – Thursday
June 21 – July 21
CLOSED: July 4-7
Breakfast: 8:30-9:00
Lunch: 11:45-12:15

Carmichael Middle School
620 Thayer Drive
Richland, WA 99352

Monday – Thursday
June 21 – July 28
CLOSED: July 4-5

Breakfast: 8:15-8:30
Lunch: 11:30-Noon

Chief Joseph Middle School
504 Wilson St.
Richland, WA 99354

Monday – Thursday
June 21 – July 28
CLOSED: July 4-5
Breakfast: 8:15-9:00
Lunch: 11:00-12:15

Enterprise Middle School
5200 Paradise Way
West Richland, WA 99353

Monday – Thursday
June 21 – July 28
CLOSED: July 4-5
Breakfast: 8:15-8:45
Lunch: 11:30-Noon

Hanford High School
450 Hanford St.
Richland, WA 99354

June 15, 16 & 17
Aug. 15 – 19
Aug. 23 – 26

​​​​​​​Lunch: Noon-12:30

Richland High School
930 Long Ave.
Richland, WA 99352

Monday – Thursday
June 21 – July 28
CLOSED: July 4-5
Breakfast: 8:45-9:15
​​​​​​​Lunch: 10:45-11:30
Article Source: Richland School District