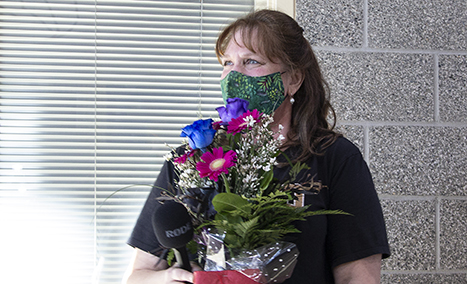 No matter what class a student may take from Carolyn Leggett at Hanford High—whether Algebra I or AP Statistics—they know it will be challenging.
They also know that there is no other teacher so prepared to do what it takes and be available so they can succeed. And it all starts with the phrase "step into my office."
"This is Carolyn's way of pulling a student aside for a private conversation about class performance, an extracurricular activity or how she can help them in difficult circumstances they are facing," says Toby Landers, a fellow math teacher. "They know that Carolyn is interested in them and their lives even when those conversations are hard ones."
That dedication to each student's needs paired with outstanding instructional practices and support of her colleagues, all honed over a 36-year career, has earned Mrs. Leggett the 2022 Crystal Apple Award for Richland School District.
The Crystal Apple Award is awarded to teachers in and around the Tri-Cities by Educational Service District (ESD) 123. The award honors educators who have a positive impact on the lives and futures of students. Each district may nominate one teacher to receive the award each year. Each Crystal Apple winner is also nominated for the State Teacher of the Year Award.
Mrs. Leggett started her teaching career in the Tri-Cities as a math teacher at what is now Pasco's McLoughlin Middle School in 1986. She then went on to teach high school math in Pasco and outside Spokane before landing at Hanford High in 2007.
Her career is filled with indicators of her success: her AP Statistics students regularly exceed national averages on the AP exam and enrollment in the course grows each year, she has developed and taught brand new math curriculum in partnership with state education leaders and served as a mentor and leader among her fellow educators.
"When I was starting out as an assistant principal, I was placed in charge of the math department," says Hanford High Principal Tory Christensen. "Not having ever been over a math department or taught high school math, I needed some help. Anytime I had a questions on how a concept should be taught or how individual students learn math differently, she is where I would turn."
Students and teachers alike note that her lessons are relevant and engaging, incorporating props to illustrate a concept or inventing scenarios tied to real world applications. But it is her individual approach to each student that sets her apart.
"When I didn't finish a test during the class period, I was immediately given the option to come back during lunch the next day," says Forest Du, a Hanford High senior and ASB Executive Vice President. "Mrs. Leggett's willingness to work with her students creates a safe environment where students are unafraid to ask for accommodations."
And on top of all of that, she finds time to help sew costumes, build sets and props and support the community of Hanford High's drama program, previously led by her husband and fellow teacher, Matt Leggett.
Mrs. Leggett will receive her Crystal Apple Award at the ESD 123 Professional Development Center in Pasco on Thursday, March 10.
Article Source: Richland School District