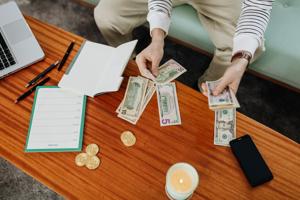 SALEM – Oregon's Division of Financial Regulation issued a warning to Oregon residents today regarding alternative money methods like cryptocurrencies, nonfungible tokens (NFTs) and similar volatile products.
"Scams promising big returns on cryptocurrencies and NFTs are flooding the Internet," said Division of Financial Regulation administrator TK Keen. "Investors wanting to purchase cryptocurrencies and NFTs should do their homework to make sure they fully understand these investments and their risks before getting involved."
What is cryptocurrency?
Digital assets without government backing that exist entirely online, from purchase to trade to investment and more.
What's an NFT?
A nonfungible token is a uniquely specific data unit that exists entirely on a blockchain without being changed, usually with digital art.
As the latest trend in alternative money, NFTs do not have a lot of regulation, despite their current abundance in the market.
The Oregon Department of Consumer and Business Services estimates almost 10,000 active cryptocurrencies and steady disappointment in consumer's return on investment. The North American Securities Administrators Association considers cryptocurrencies and NFTs the greatest threat to investors this year.
The Division of Financial Regulation recommends anyone looking to invest in a cryptocurrency or NFT is sure they know what they're getting into.
"Before engaging in a transaction, make sure that you understand what you are purchasing, the value of the item purchased, the reason for the valuation, and how easy it is to sell the investment if you want to get out your money," said the press release.
Oregon state law requires that digital currencies transferred between individuals are done by a company licensed as a money transmitter. Verifying the state license to transmit cryptocurrency to someone else is a quick step that can save a lot of money.
The division also recommends that people do not invest money they need for essentials in cryptocurrencies or NFTs.
Call 866-814-9710 with questions regarding unregulated assets like these.
Article Source: NBC Right Now