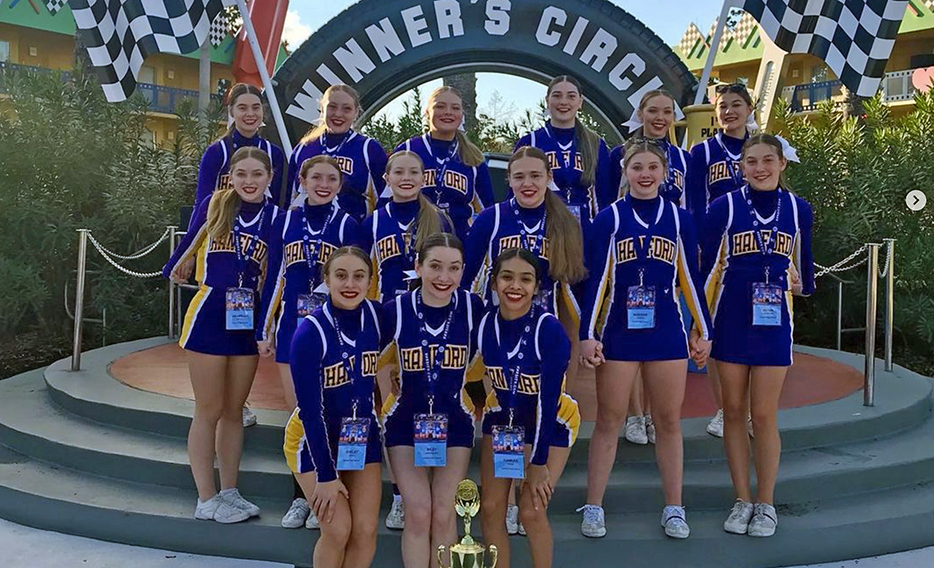 Perseverance, Dedication Led Hanford Cheer Team All The Way to The National Finals
Hanford High School's cheerleading team has a long history of bringing home titles and the 2021-22 school year was no different as the Falcons took home two state titles and made it to the national cheerleading competition!
The team of 15 students, led by coach Kim Mayer, were named state champions for the 4A Game Day Medium size category and Non-Tumbling Medium size category at the Washington Interscholastic Activities Association (WIAA) competition held February 4-5.
Two days after returning from the state competition, the team flew to Florida to compete in the UCA 2022 National High School Cheerleading Championship. Through three days of competition, teams qualify to move from preliminaries to semifinals and finally to the championship. Hanford shined in the Small Varsity – Non-Tumble category making it to the Finals where they placed 16th overall.
"What [this team] has accomplished this year is nothing less than amazing! Having not been able to stunt in over a year, nor compete in two years…then to win not one, but two state titles, and make it to finals at Nationals is incredible considering it was only our third competition of the [school] year!" says coach Mayer.
The HHS cheer team qualified for Nationals after placing 1st in the Small Varsity – Non-Tumble category and 4th in the Game Day Varsity – Non-Tumble category at the UCA West Regionals held in November.
Article Source: Richland School District