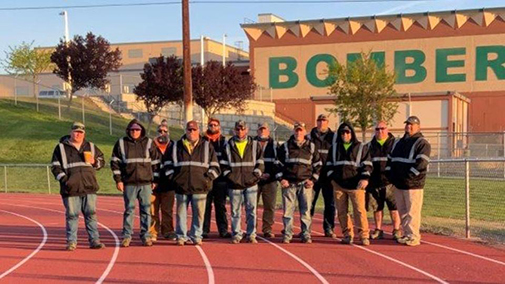 RSD can now boast it has the most qualified grounds team in the state maintaining and enhancing the grounds on which students play and compete and that welcome staff, families and community members each day.
Nine members of the district's grounds team are now Certified Grounds Technicians (CGTs), a specific national certification through the Professional Grounds Management Society (PGMS).
RSD's staff are the only CGTs maintaining K-12 grounds and campuses in Washington state. The process of meeting the certification's high standards have already left a mark; the staff were awarded a Green Star Honor Award for its work on Fran Rish Stadium grounds before its current renovation project began.
PGMS is the premier organization for those working in grounds management in the U.S., from corporate complexes and college stadiums to K-12 schools and municipal governments.
Those pursuing the certification must have at least two years of experience as a grounds technician and pass an exam covering everything from soil science and chemistry to plant management and sustainable landscaping.
RSD Certified Grounds Technicians
CJ Carley
Brian Johnson
Kevin Johnson
Jimmy Laposi
David Lee
Charles Richardson
Dee Ullrich
Josh Wallis
Chris Hall
Article Source: Richland School District