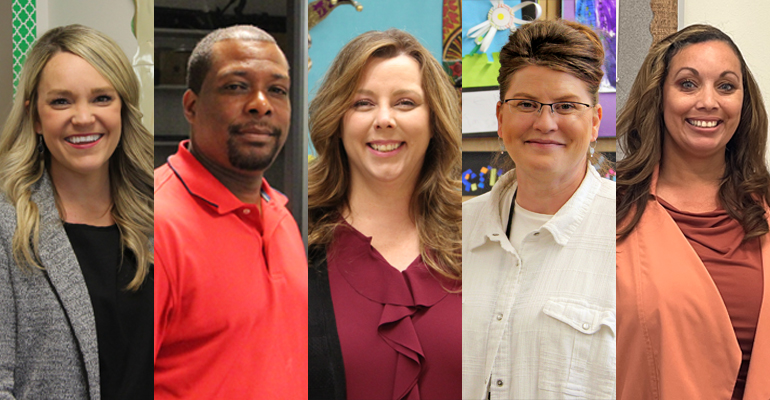 RSD is celebrating Certificated Staff Appreciation May 2-6! Our certificated staff, which includes teachers, school counselors, librarians, school psychologists, and school nurses, work hard each day to support, engage and inspire students. If you see them around our schools, be sure to thank them for all they do!
To celebrate, we are sharing stories from five certificated staff members in our schools.
***
The kindergartners that Tamara Salois welcomed to her classroom during her first year teaching at Marcus Whitman Elementary are now moving on to middle school. It's a bittersweet moment for her, to see the students who helped her start her teaching career move on but exciting to see what life holds for them. The hallways are now filled with students who she helped on their educational journey. And for her that's the best part about being a teacher, watching students continue to grow and learn. "To see the world through a young student's eyes, full of wonder and excitement about what they are learning, makes it all worth it," she says.
***
Carmicheal Middle School's Steve Griffin knows the value real world experience can bring to a job. After all he spent 20 years in the corporate world solving tech issues for large retail companies before switching to a career in education. Mr. Griffin now teaches computer science through RSD's Career and Technical Education program. "I like that I can give my students real world problems and solutions from my time working in the tech industry," he says. Mr. Griffin's impact doesn't stop in the classroom, he is also known as Coach Griffin to his football players. Being from Texas, he has always had a passion for football and helps his players build character on and off the field.
***
Art has been lifelong passion for Erika Cook and she considers herself lucky to have spent the last 11 years teaching art techniques and appreciation to students at Jefferson Elementary. A kid can be having a bad day, misbehaving or acting out, but when they step into her classroom that all can change. "Art gives kids the opportunity to express themselves," Mrs. Cook says. "To let go of what is bothering them and be in the moment."
***
Relationships with students and their families is one of the most important aspects of Tascina Penor's job. Mrs. Penor had been a school psychologist Orchard Elementary before joining the team at Leona Libby Middle School two years ago. The relationships Mrs. Penor built while working at Orchard are helping her reconnect with students as they move on to Libby. "The most rewarding part of my job is watching students achieve success after getting back on track," she says. "It's all about understanding the students you are serving."
***
For Toree Markussen, life has come full circle. Mrs. Markussen, a Richland High grad, now teaches Language Arts in the same classroom she took the class in when she was in high school. And it was in that very classroom back in high school that she found her passion and decided to become a language arts teacher herself. "I want to be a bright spot in my students' day. I want my classroom to be a safe place where they know they are loved and respected." Mrs. Markussen is also one of the RHS' AVID teachers and the yearbook advisor. Whatever a student's interest is, Mrs. Markussen's goal is simple," to help them find their path and passion in life."
Article Source: Richland School District